A journey begins with an idea, a vision that is strong enough to come to life eventually. Véronique LE BIHAN has spent twelve years of her life working in cosmetics and fragrance product development. Passionate about architecture and design, she was driven by the desire to create with a pace respectful of the rhythms of the creative process, craftsmanship, and nature. ATELIER MATERI was born.
ATELIER MATERI embodies the new form of slow luxury. It is an honest, sincere, sustainable and authentic luxury that takes the time to perfect itself.
Each fragrance is pervaded with freedom and creativity, uninhibited by marketing constraints and fleeting trends. Respectful of the time required by the creative process, mindful of the collaborators' crafts, each material that peaks Veronique's interest is carefully studied, its textures, colors, and all the facets explored. It's a never- ending search for innovative pairings and new interpretations.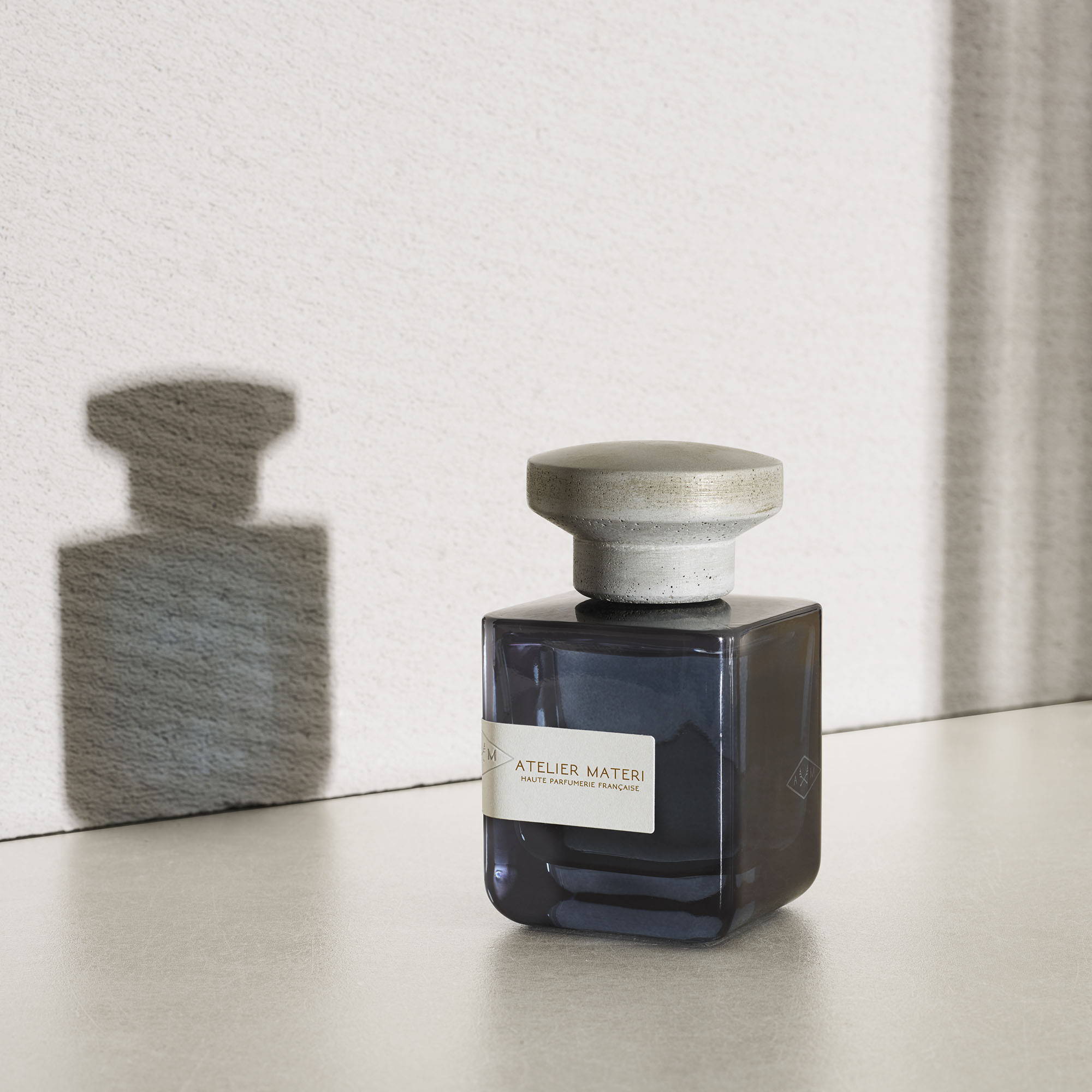 ATELIER MATERI's minimal and contemporary packaging aesthetic is rooted in architecture and modernist design, where raw materials reign. Each bottle embodies the House's aesthetic and obsession with detail, bearing the ATELIER MATERI hallmark, a tribute to craftsmanship with the union between deep blue and stark minerality. Made of concrete, a mineral material with minimalist beauty, the cap is poured, polished, and finished with an antique bronze patina entirely by hand. Each piece bears the marks of its craftsman, making it unique.
"Guided by the quest for a rigorously precise aesthetic, I want to offer a fragrance that is a reflection of who I am. Emotional and distinctive, my creations are imagined around raw materials and those who transform them." -- Véronique LE BIHAN
Bois d'Ambrette
If you are a fan of musk, take a closer look at a lesser-known vegetal musk: the multifaceted ambrette. Following the crisp and luminous opening of the mandarin and angelica, the sensual and slightly carnal notes from the ambrette unfold and settle with restraint and elegance in a base of sandalwood and ambroxan.
Cacao Porcelana
A rare variety, this white cocoa grows in the heart of the oldest plantations in Piura, northwest Peru. Extracted by hand from the pods, the beans are fermented before being sun-dried and roasted. To capture the most beautiful facets of this white cocoa, the perfumer collaborated with a French Maître Chocolatier to obtain the perfect roasting, thus revealing sensual nutty and milky notes with a Tonka bean undertone.
Rose Ardoise
In ROSE ARDOISE, the perfumer plays on ambiguities, combining femininity and masculinity, transparency and texture, minerality, and sensuality. The fragrance opens with fresh, spicy Schinus molle and nutmeg notes that reflect sage's precise, crystalline vibration. Then, the rose expresses itself entirely before progressively melting into an overdose of ambroxan.